Time for another drinking for science post. This time it's a blind tasting conducted with members in the Houston Bourbon Society, HBS, with 15 tasters of 16 high proof American whiskies. While I previously led 5 blind tastings in this group, this time I was a participant. Kevin Wyze organized this blind tasting and ran it well. It was a blast being a participant and sometimes very humbling when you see the reveals . Are these folks expert tasters? Well they do all have their HBS elite cards.
The scoring system was on a 0-5 scale, with 5 points being the best whiskey possible and 0 points being the worst. 2.5 points would be the middle of the road. Tasters turned in scores of 3 whiskies each week, so this tasting lasted 6 weeks. Tasters scored each whiskey on its own, preferably tasted on different nights.
The theme of this tasting was high proof American whiskies which ranged from 108.4 to 136.8 proof, with an average of 118.4 proof. Does proof cover up flaws in young whiskey? Which whiskey would blind tasters think tasted 'hot' or above their proof and which went down easy and tasted below their proof? Kevin did sneak in a poor man's high proof whiskey concoction – 100 proof proof Very Old Barton which was kicked up with some Everclear to 115 proof.
The results: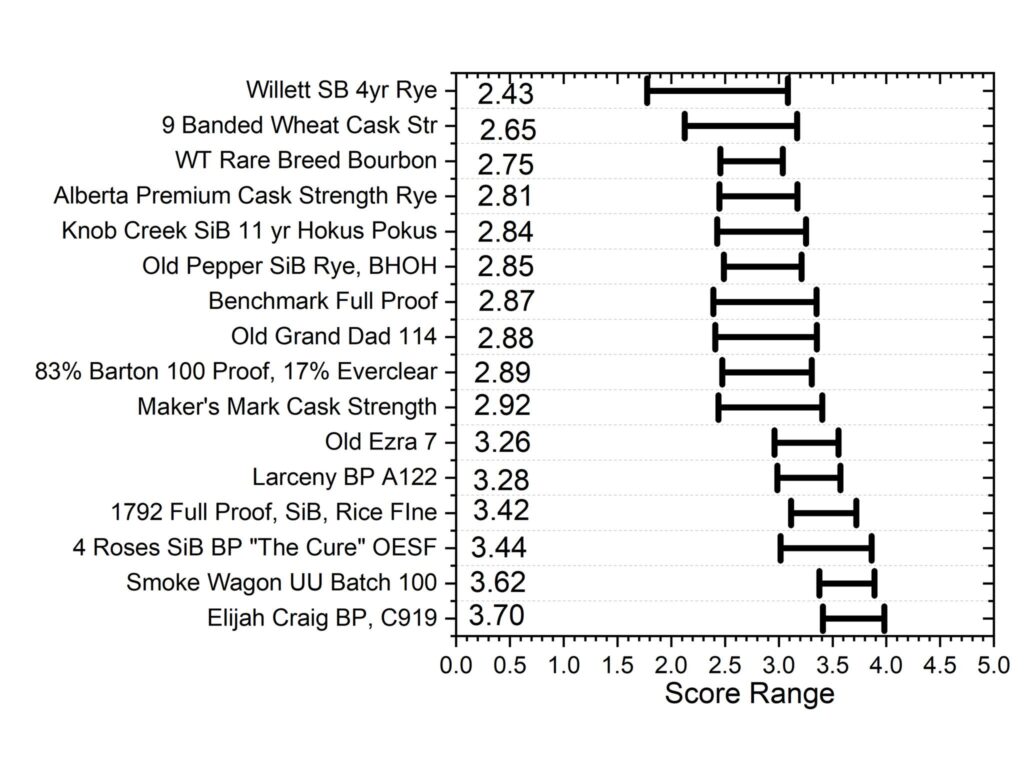 On all my blind tastings, there were always a few surprises. Wild Turkey Rare Breed Bourbon scoring so low was shocking.  The lowest score was Willett Rye, which was their own distilled rye, which did not surprise me.  I scored it 0.5.